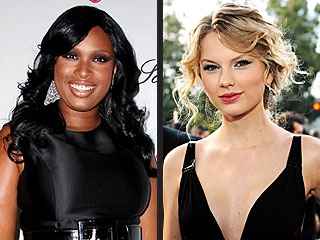 Amanda Schwab/Startraks, Kevin Mazur/WireImage
Jennifer Hudson,Justin Timberlake ,and Taylor Swift among others are performing Friday for Haiti Now telethon. Each performer will simultaneously from different part of the world. Rihanna will perform from London along with Bono,Jay Z and Coldplay. Justin will perform in Los Angles. The show will air on different network all at 8pm. Read Below for more details. Speaking of Justin I just brought Matt Morris beautiful music. I am kicking myself for missing his performance on Ellen. I everyone were able to see Matt on Justin.tv yesterday online.
Justin Timberlake, Rihanna and Christina Aguilera are among the music stars set to perform at Friday's Hope for Haiti Now telethon for earthquake relief.



The two-hour event will air on several networks at 8 p.m. ET, hosted by George Clooney in Los Angeles, Wyclef Jean in New York and CNN's Anderson Cooper in Haiti.



Sting will be joined in New York by Bruce Springsteen, Mary J. Blige, Jennifer Hudson and Shakira.



Timberlake and Aguilera will take the stage in Los Angeles, along with Alicia Keys, Dave Matthews, John Legend, Stevie Wonder, Taylor Swift and a group performance by Keith Urban, Kid Rock and Sheryl Crow. In London, the lineup includes Rihanna, Bono, Coldplay, Jay-Z and The Edge.





Music Stars Sign Up for Haiti Telethon - Good Deeds : People.com
Golden Globe winner Sandra Bullock has turned anything but a Blind Side to the situation in Haiti – and has donated $1 million in relief aid to the victims of the Jan. 12 earthquake, which is now estimated to have killed 200,000 people and left 1.5 million people homeless.

Bullock's contribution matches those by George Clooney and Brad Pitt and Angelina Jolie, reports Variety. The trade paper also notes that Gisele Bündchen has pledged $1.5 million to Haiti, while Madonna says she has given $250,000.

The gifts come as the star roster for Friday's multi-network Hope for HaitiChristina Aguilera, Bono, Alicia Keys, Sting and Justin Timberlake. Tom Cruise and Julia Roberts have already been announced as answering the phones during the telethon.

The special will air live from Los Angeles and New York at 8 p.m. ET on MTV, ABC, CBS, NBC, CNN, FOX, BET, The CW and HBO, among other networks. Donations will benefit Haiti relief efforts by the Red Cross, UNICEF, the Yele Haiti Foundation, Oxfam America and Partners in Health and be divided evenly among the groups.

On Monday, a tearful Jean defended his foundation against allegations that he profited from donations to the Yele.
telethon, organized and to be co-hosted by Clooney and Wyclef Jean, continues to expand. Among those set to perform now include





Reaching Out with Help

Others heeding the call to action include Taylor Swift and Ashley Judd, who already helped the University of Kentucky (Judd's alma mater) raise $1 million during a 4½-hour Hoops for Haiti telethon on Lexington's WKYT-TV.

U2 has also penned a song for a separate Haiti relief event being organized by Jay-Z and Swizz Beatz.

Major League Baseball also hopped on the bandwagon, pledging a $1 million starter donation. The New York Yankees came forward with $500,000, and the Toronto Blue Jay owners Rogers Communications gave $250,000 in cash and goods.

And some stars are literally giving the clothes off their backs to help the effort. Meryl Streep, Gerard Butler, Amy Poehler and Olivia Wilde are donating the outfits they wore at Sunday's Golden Globes to Artists for Peace and Justice, which will auction the outfits to the public on eBay next week.